Aiviewgroup and Airmap Partner to Deliver Enterprises an Integrated Drone Intelligence Platform.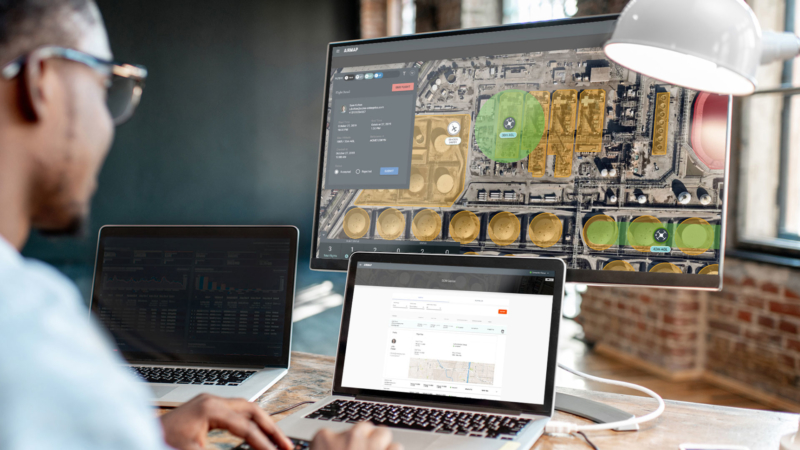 AirMap, the leading digital airspace and automation company serving the drone economy, and Aiviewgroup, the Italian aerial intelligence company, are partnering to deliver drone operations management solutions to the enterprise market.
The companies will integrate AirMap's airspace intelligence and operations management tools with Aiviewgroup's aerial inspection and fleet management solutions.
Corporate customers will now have worldwide access to a complete set of airspace services and state-of-the-art drone inspection operations management tools for ensuring safety, compliance, and control near critical infrastructure assets.
AirMap's Enterprise Operations Management Center application enables enterprises to assign corporate operational policies to designated airspace zones for UAS operations near their physical assets. By using the AirMap platform, enterprises can ensure that each UAS operation is safe and in compliance with all public airspace regulations and corporate policies.
Aiviewgroup's AI-Crew allows enterprises to have full control over UAV systems, pilots, operations and maintenance routines. Enterprises can automate inspections and drone operations over major infrastructure and industrial plants with AI-Inspection.
"AirMap's Enterprise Operations Management Center, combined with Aiviewgroup's aerial inspection intelligence and fleet management services, makes it easier for our customers to integrate drones safely and efficiently into their day-to-day workflow," said Stefano Gennenzi, Aiviewgroup CEO and Co-Founder. "We look forward to providing our enterprise customers the airspace awareness and data analytics tools they need to deploy high-scale drone operations."
"The EOM Center is particularly valuable to enterprises, as it allows them to digitize their operations manuals, customize workflows around their assets, and monitor compliance of drone operations," said Boris Lacroix, AirMap's Senior Vice President of Product Management. "AirMap is proud to work with Aiviewgroup to equip enterprises with the ability to scale their drone operations effectively while complying with airspace regulations and corporate policies."
About AirMap
AirMap is the leading digital airspace and automation company serving the drone economy. AirMap connects airspace authorities, enterprise operators, and industry developers with automation software solutions for scaling safe and efficient drone operations in low-altitude airspace. AirMap's UTM and U-space products are deployed in the Czech Republic, Japan, Singapore, Switzerland, the United States, and available in over 30 countries. The company serves a global community of over 250,000 pilots and 2,500 registered developers. In 2019, AirMap acquired Hangar Technology, an enterprise drone dataflow platform, to further accelerate enterprise drone adoption through digital automation. AirMap is committed to advancing drone enablement through global research initiatives including NASA-UTM, the European Network of U-space Demonstrators, and the U.S. DoT UAS Integration Pilot Program and UTM Pilot Program. Learn more at www.airmap.com.
About Aiviewgroup
Aiviewgroup is an aerial intelligence company whose mission is to design, develop and operate innovative tools to take full advantage of the potential of unmanned technologies. With the help of Aiviewgroup's specialized tools, enterprises can collect, analyze and deliver information to speed up their digital transformation, manage large UAS fleets and integrate drones into the airspace. With AInspection, enterprises can translate aerial data into valuable business assets through automated inspections and smooth data integration into their existing information and workflows. Aiviewgroup gained its operational experience in industrial inspections, flying over bridges, viaducts, powerlines, railways, dams and PV plants, developing new procedures and techniques for automated inspections, and performing long range and remote flights over major infrastructure. Aiviewgroup actively cooperates with universities and research bodies, with the European Network of U-Space Demonstrators, and with ANSPs to widen the possibilities and effectiveness of unmanned technologies. Learn more at www.aiviewgroup.com.